VERS recovers energy with the use of onboard
alternators when the vehicle is decelerating.
Energy is then stored in the supercapacitor
module and used to power onboard devices,
thus saving fuel.
We are happy to work in over 500 buses
with our Customers all across Europe,
clocking more than 4.000.000 km each year.
The Systems are optimised for TCO,
enabling up to 5% gain in fuel efficiency.
while providing Start Assist and Battery
Protection functionalities, maximising
fleet-wide savings and reliability.
Our VERS Systems have been rigorously
tested with a leading OEM partner
– both in everyday conditions and at
industry testing grounds (IDIADA, Spain).
With estimated savings of 1.7 l / 100 km
each VERS Energy Recuperation System is
equipped with a standard Monitoring unit,
delivering monthly reports to your email.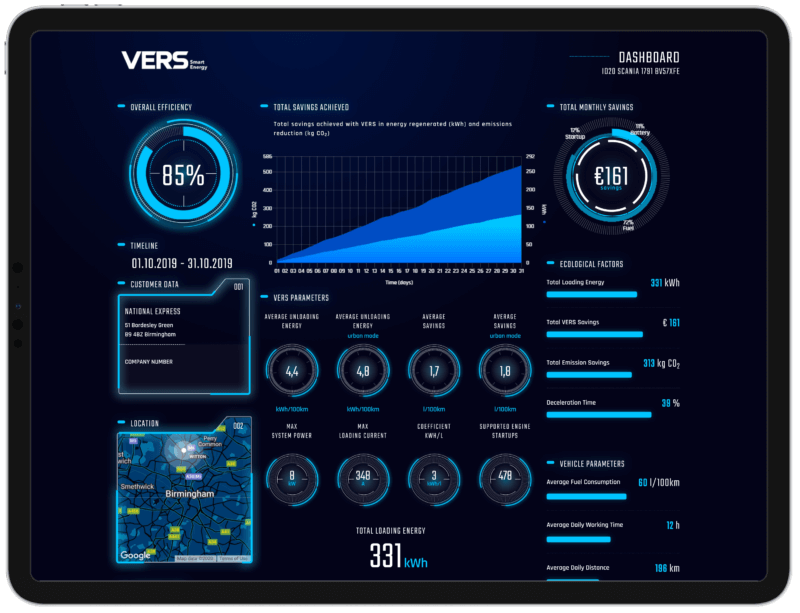 Winter conditions and low battery levels can pose
major problems for smooth city bus fleet operations.
Our Systems are equipped with Start Assist and Battery
Protection features. Designed to support engine start-up
and protect the onboard battery from high currents
flowing after engine start, these functionalities improve
fleet reliability and lower the Total Cost of Ownership.